selected works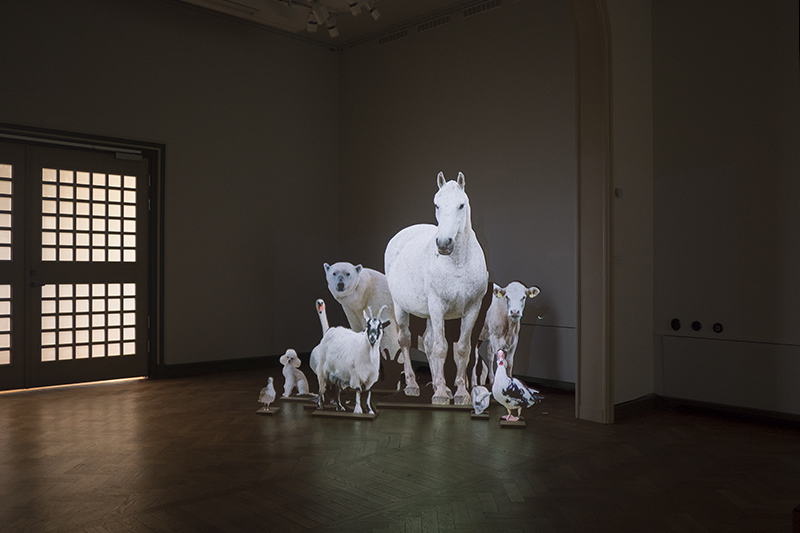 the pale observer
videoistallation

Video av djur, som stilla rör sig, projecerad på figursågad MDF
foto Lars Sjöqvist / Värmlands Museum
_________________________________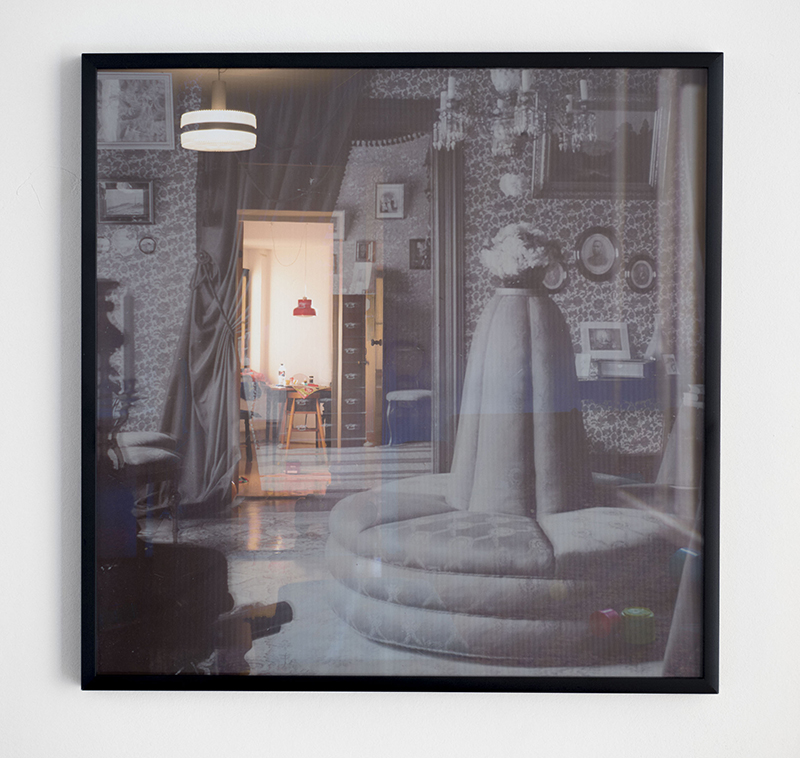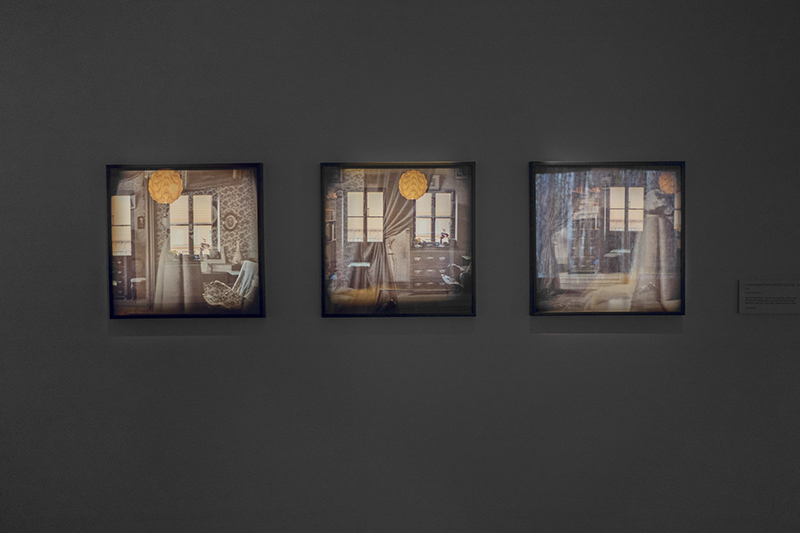 Landskrona 1909, Malmö 2015
lenticular print
2015

Jag har fotograferat släktfoton, foton på mormors mammas föräldrahem.
Eller, rättare sagt reflektionen i ramens glas, av mitt rum, som fotot hänger i.
Egentligen både och. Fokus ligger någonstans däremellan.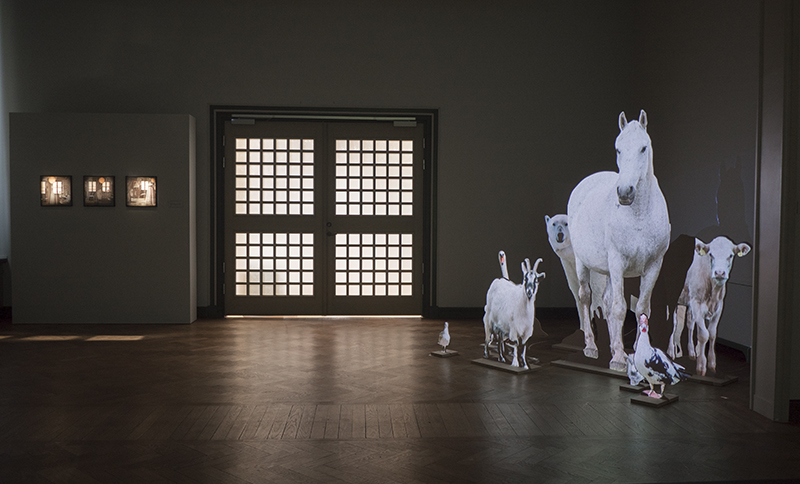 Landskrona 1909, Malmö 2015,
the pale observer
Värmlands museum , västra galleriet 2015
_________________________________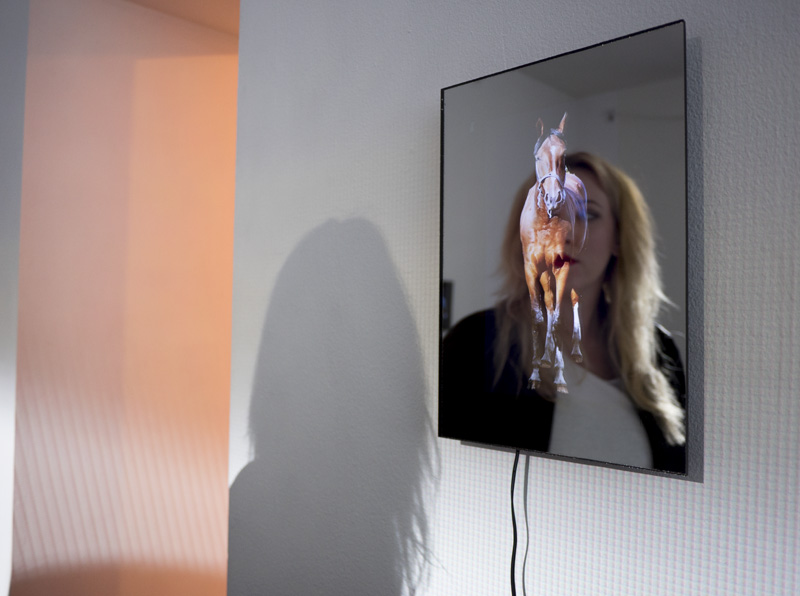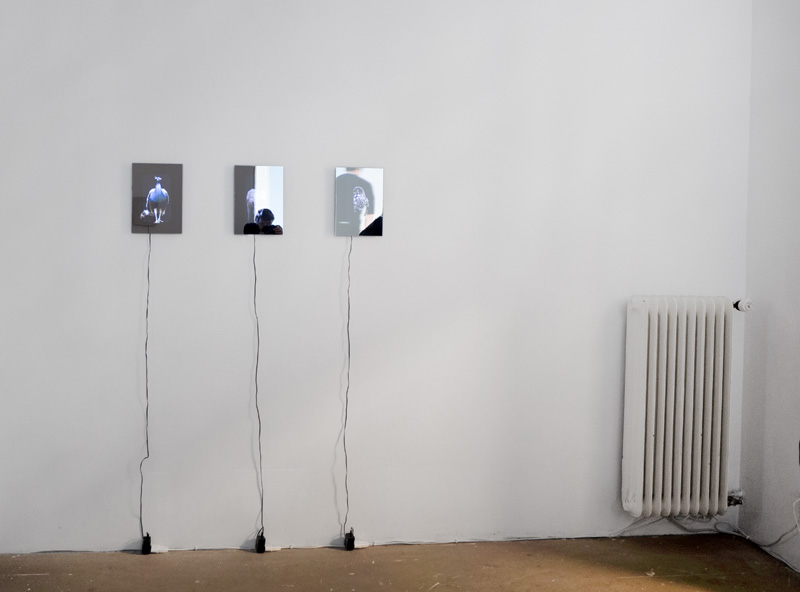 Galleri 54 Göteborg, 2015
the Other, the Self
2014-2015
21x29 cm
tvåvägsspegel LCD skärm med inbyggd spelare
5 min loop

Videoverket består av tvåvägsspeglar, speglar som normalt används vid polisförhör. Bakom varje spegel är en LCD skärm monterad. På skärmen, genom spegeln, visas ett djur. Djuret framträder som i en holografisk effekt, då det som är ljusare i videon lyser igenom spegeln och det som är mörkare än rummet du står i reflekterar tillbaka. I stilla rörelse står djuret där, nästan orörlig, och tittar på dig. I reflektionen ser du dig själv.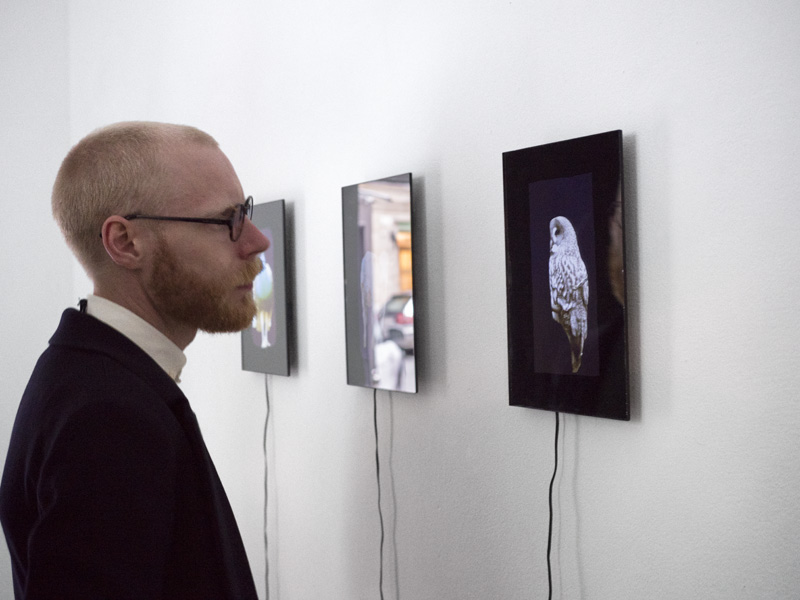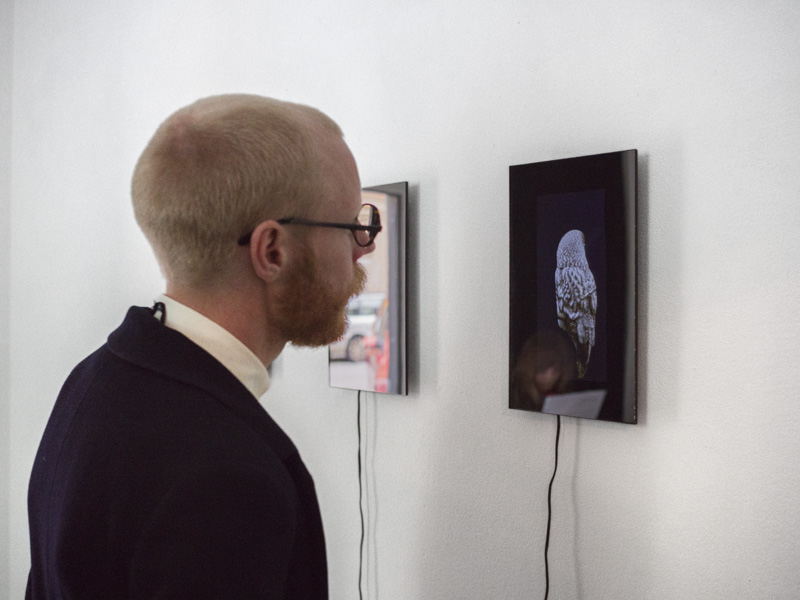 _________________________________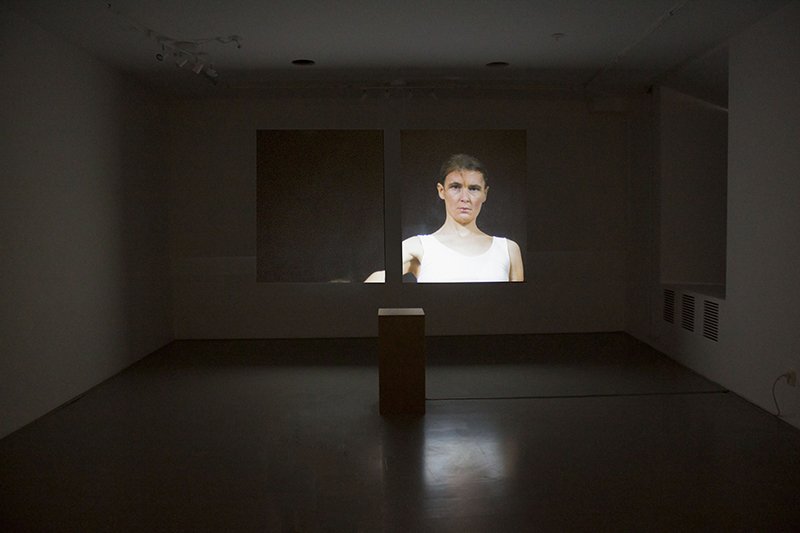 Katharsis
videodiptyk. projektion på två reflekterande dukar
Gocart Gallry, visby 2014


OBS innehåller ljud, högtalarna bör ha bra basåtergivning.
_________________________________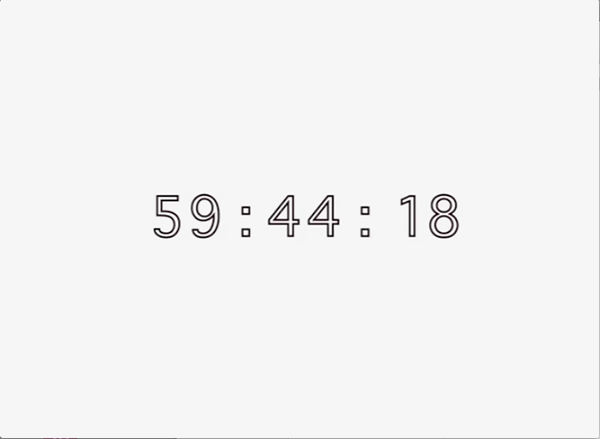 The End
video
60 minutes
one hour countdown, looped
_________________________________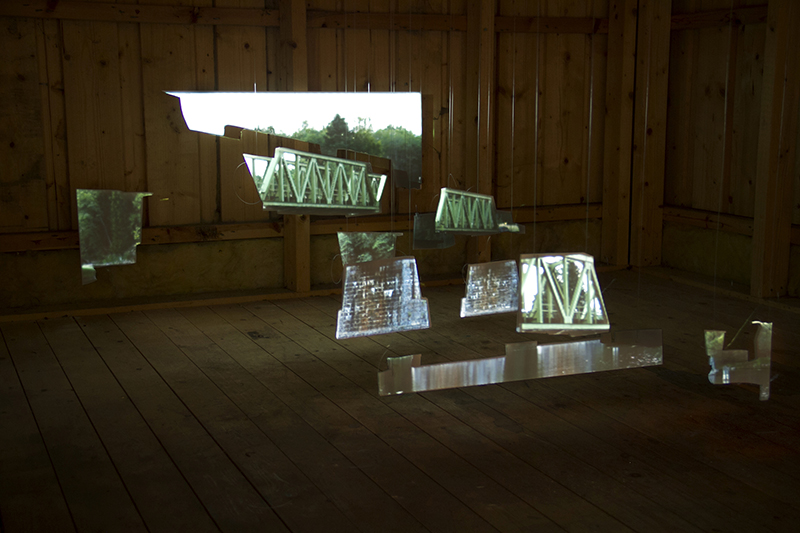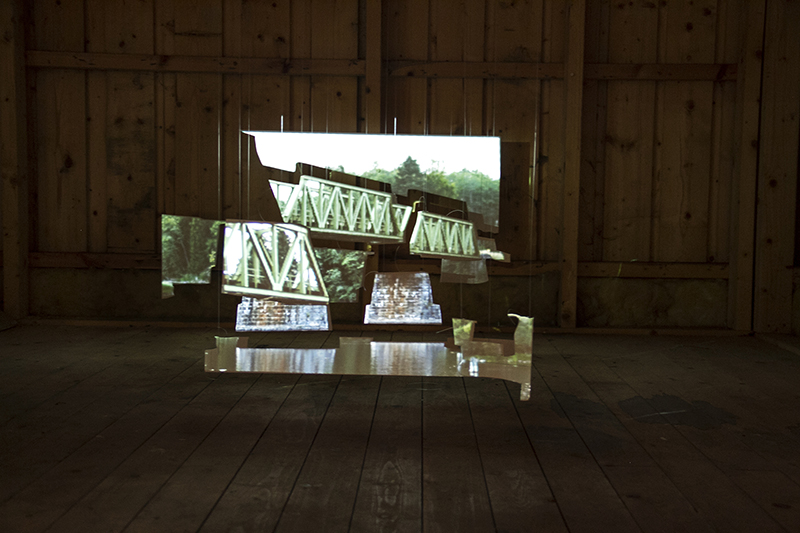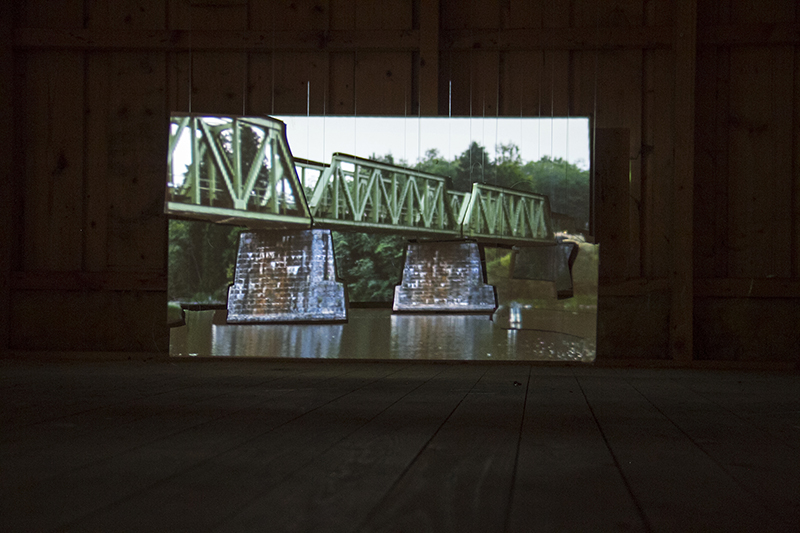 Alefen
2014
* Anamorphic video installation
audio
2.1 x 0.8 x 2 meters

In Borges' story, the Aleph is a point in space that contains all other points. Anyone who gazes into it can see everything in the universe from every angle simultaneously, without distortion, overlapping or confusion.
* Anamorphosis is a distorted projection or perspective requiring the viewer to use special devices or occupy a specific vantage point to reconstitute the image.
_________________________________
Zenons pil
2012
screen saver
01:45 minutes loop
(cropped variation)
_________________________________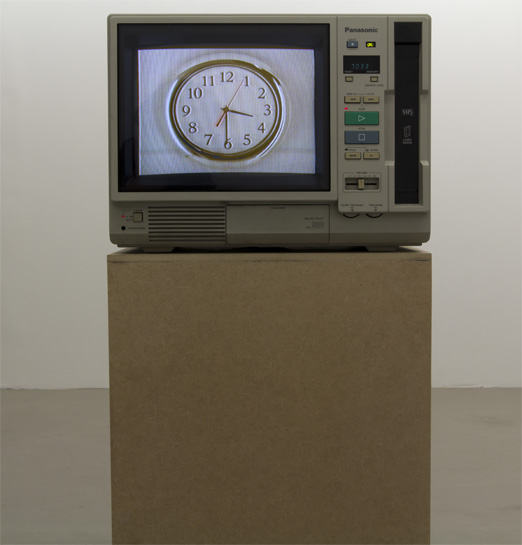 Clock
video installation
4 hours VHS
monitor, podium
Galleri Anna Thulin 2011

In Clock the artist has recorded a clock in the past with the expectation that a future viewer will encounter the work in the fleeting present. The pre-recorded film questions the present and is proof of an existence of a past, and the expectations of the future.

Pressrelease, Galleri Anna Thulin 2011
I verket Clock visar en monitor just inget annat än en inspelning av en högst ordinär klocka som under fyra timmar ger den korrekta tiden. Det förstärkta ljudet av visarnas entoniga matande gör tiden extra påtaglig och påminner oss om att vi står inför en tid som redan har varit.

Håkan Nilsson SvD, 3 november 2011
_________________________________
The Veiwer
video installation
CCTV, projector
table, chair in 1:1 and 1:87 scale
Galleri Anna Thulin 2011
Nykvist explores how real time is connected to the present time in the workThe Viewer. In the scale 1:87 a man sits by a table. He is watching a surveillance screen. You view the small man in an enlarged copy of the small scene. Through a visual feedback the viewer is moved back and forth in the room. This is a totally interactive work that is based on a viewer being present in the room. The work is completed when the viewer sits down on the chair by the small installation. When the viewer leaves, the work is incomplete.
Pressrelease, Galleri Anna Thulin 2011

Mitt i rummet finns en stol och ett bord. På bordet står en liten kamera bakom en skalmodell av en ännu mindre gubbe som sitter vid ett bord och tittar på en videoskärm.
På väggen framför denna konstellation möter en videoprojektion som i realtid visar vad den lilla bordskameran filmar.
Det förefaller först som om The Viewer leker med frånvaro och närvaro, med den tomma stolen vid bordet och videoprojektionens sittande man. Men när jag sätter mig på den tomma stolen upptäcker jag att den lilla monitorn visar hur jag sitter där. Jag är själv föremål för en annan övervakningskamera. Min vilja att se gör mig till objekt.
Håkan Nilsson SvD, 3 november 2011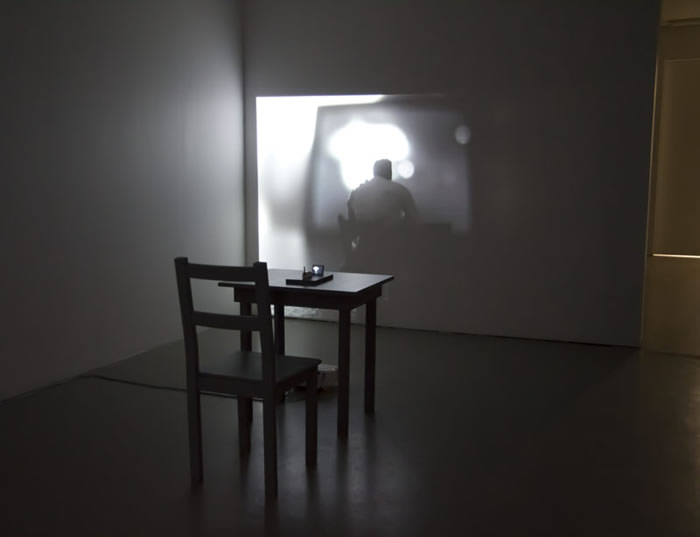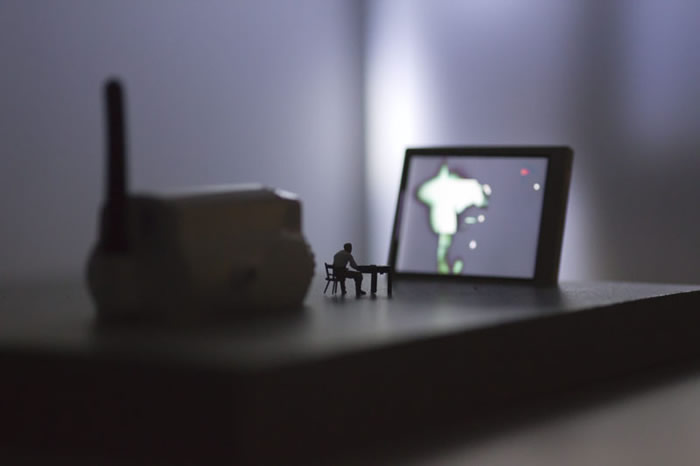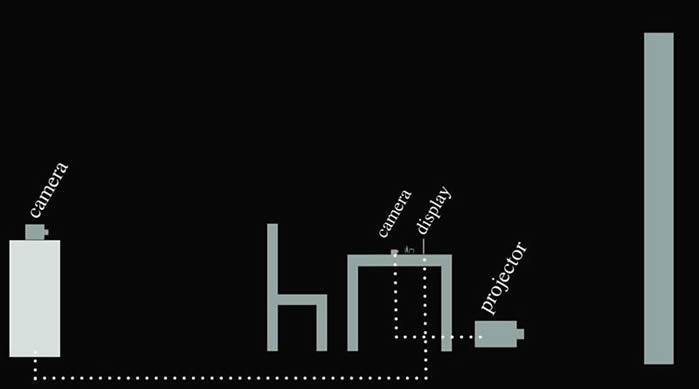 _________________________________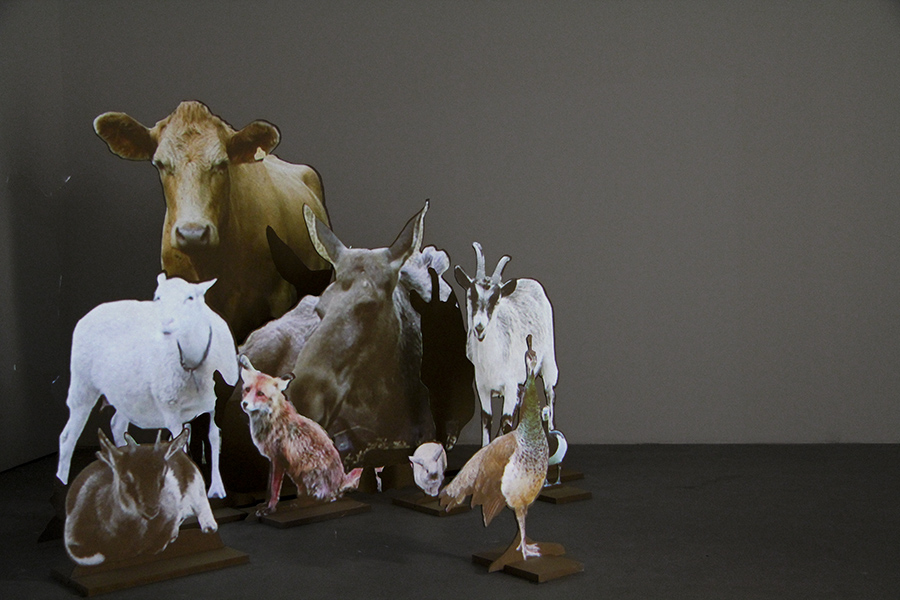 The Spectator
video installation
10 min loop
projection, Mdf
Galleri Anna Thulin 2011
_________________________________

Fraktlåda
fraktlåda 70x70x70 cm,
2 LCDskärmar, ljud
Clarion Hotell, Skanstull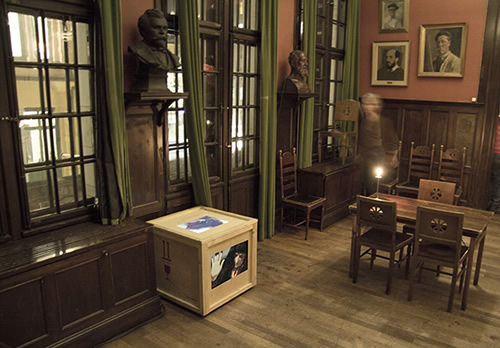 konstnärshuset, Stockholm 2009


odenplan Tbana 2009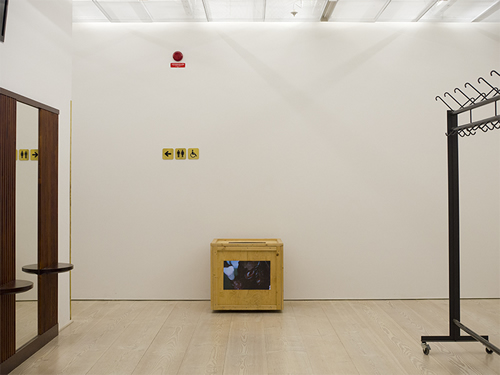 Sven-Harrys Konsthall, Stockholm 2014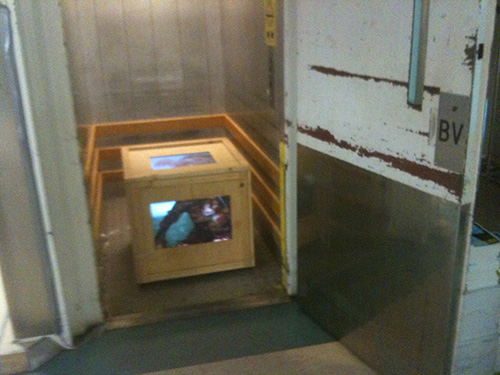 One Lucia, gamla posten, Stockholm 2011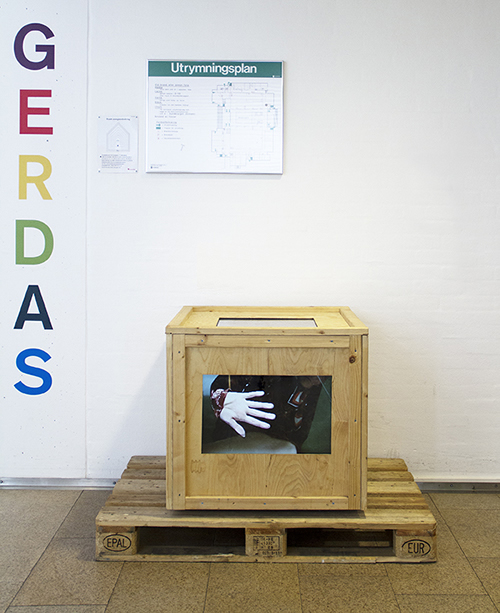 Dunkers Kulturhus, Helsingborg 2014
Foto Lena Wilhelmsson
_________________________________
Stills
video installation
3 projectors
Konstfack 2008
_________________________________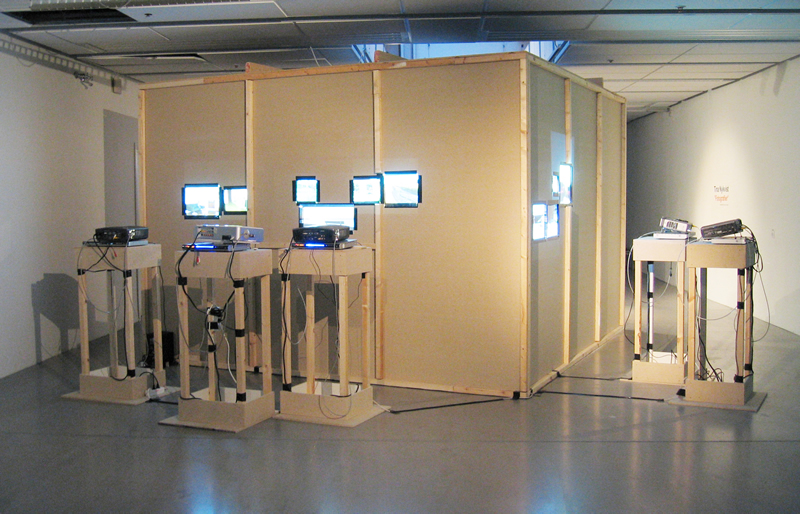 Fotografier
video installation
05:50 minutes, loop
6 projectiors, 12 frames, video, room
Konstfack 2007